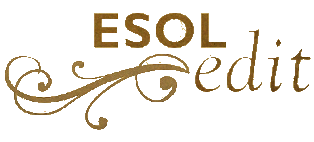 Proofreading, Editing & Translation for Academics and Authors
ESOL Edit is a proofreading, editing and translation service.
Originally intended for non-native English writers whose academic or professional career requires advanced-level English, Nina also works with native English and Spanish speaking authors and academics.
​
​
​
ESOL Edit specialises in proofreading and copyediting postgraduate academic texts (essays, journal articles, Masters & PhD theses, etc.) written by non-native speakers of English. ESOL Edit is also active in the literary and commercial world, editing for native English writers and translating from Spanish to English.

With an academic background encompassing both the sciences and humanities, and with knowledge of multiple European languages including Latin and Ancient Greek, Nina is well-equipped to give your written work the elegance and clarity it deserves.
​
What is ESOL? The meaning of the acronym ESOL is English for Speakers of Other Languages. In the current context, this term is preferred over ESL (English as a Second Language), as it takes into account the fact that English could be a client's third or even fourth language. Therefore, ESOL Edit means simply 'editing English for Speakers of Other Languages'.
​
ESOL Edit is the brainchild of Nina Cook, a qualified linguist, passionate language learner and ex-ESOL teacher. She left her teaching profession in 2019 to dedicate herself full-time to academic proofreading and copyediting for postgraduate students and professors and quickly realised that the majority of her clients were non-native speakers of English. The experience and knowledge gained in her teaching and academic career give her a deep understanding of commonly made linguistic errors. She is passionate about providing her clients with excellent results and sharing her insight so that they can truly progress in their English writing career.
​
"The complexities of academic, literary and technical language necessitate the use of an editor with skill and a sympathetic understanding of your ideas."