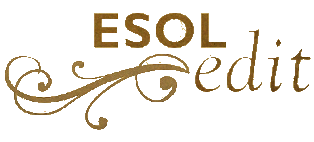 Proofreading, Editing & Translation for Academics and Authors
Tobias Excellent job! Due to Nina's editing, my prose has a much nicer flow and an idiomatic feel to it. I also appreciated that she followed my train of thought very well. As a result, her revisions never distorted what I wanted to say. I would work with Nina again anytime.
​
Vassilis Having worked together with Nina several times in the past, I can confidently assure the quality of her services. Nina has proofread a great number of my written work and she has done so very promptly and professionally. I will definitely work with her in the future and I recommend her with absolutely no hesitation.
Miguel (Universidad de Sevilla) Solicité a Nina la revisión de mi inglés para un artículo académico. Su trabajo ha sido excelente y muy profesional. Responde rápido a los emails y entrega el trabajo en el tiempo estipulado. La recomiendo sin lugar a dudas y volveré a contratar sus servicios. Great proofreading and copyediting services and very professional results. She answer emails quickly and finish the work in schedule. I strongly recommend her.
Anna Professional. Helpful. Answers quickly to emails. Highly recommended.
Lona Gaikis Very professional, attentive to detail and quick in proofreading (EN). Wonderful!
S Reisewitz (LionsThought) We've employed Nina on a number of occasions as a copywriter and proofreader for our advertising campaigns and websites. We have also hired her as a translator for the local Los Angeles latino market and for our international projects with Procter & Gamble in Madrid and London in conjunction with Grey Advertising for our Hugo Boss fragrance advertisements. Nina's work has been well received and we highly recommend her services as a copywriter.